Wikipedia entry for Ellen Mary Rope
Ellen Mary Rope was born in 1855, the seventh of nine children born to George and Ann Rope of Grove Farm, Blaxhall, Suffolk. While her eldest brother, George Thomas Rope, was a painter and naturalist, "Nell" (as the family knew her) specialised in sculpture, particularly bas reliefs in a variety of materials. She worked in London for much of her artistic career, often sharing a studio with her niece Dorothy Anne Aldrich Rope, also a sculptor, and near another niece, Margaret Edith Rope. At some time in the nineteen-twenties, she retired to the family farm in Suffolk, where she died in 1934.
Interest in Ellen Mary's Rope has waxed and waned over the years with changes of taste, as a glimpse of the panel shown above might suggest but there has been sufficient interest recently to justify the staging of an exhibition of her work by H. Blairman & Sons - and much of the information below comes from the catalogue of that event.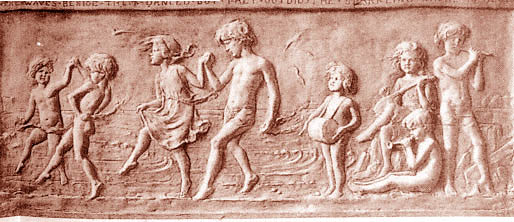 "Portrait relief of four children" ca. 1898**
It is quite possible that people reading this have seen her work, or even possess an example, perhaps without knowing it. Much of EMR's work at certain periods used methods of casting that allowed several, even many, copies to be made and in various materials, e.g. metals, plaster etc. There are several cases where the same design is known to recur in different places, as exemplified in the box to the right of the first illustration above - the angel and child in the memorial plaque to her doctor brother in Shrewsbury is also to be seen in her local church at Blaxhall, Suffolk.
Her early artistic influences included the philanthropist and social housing reformer Octavia Hill (1838-1912), whose Nottingham Place School in Marylebone EMR attended from 1870, studying drawing under her tutorship. Later, EMR attended Ipswich School of Art, exhibiting paintings and drawings alongside her brother George Thomas.
In 1877, EMR joined the Slade, continuing to study drawing and painting, but from 1880 she studied sculpture and modelling, which gradually came to be her main artistic outlet. In 1885, she had three bas-reliefs accepted by the Royal Academy and subsequently came to share a studio with Elinor Hallé, a fellow student from the Slade. Commentators trace a development in EMR's style over this period, instancing fin de siècle melancholy in the figures in Demeter and Persephone ** - shown at the RA in 1889 .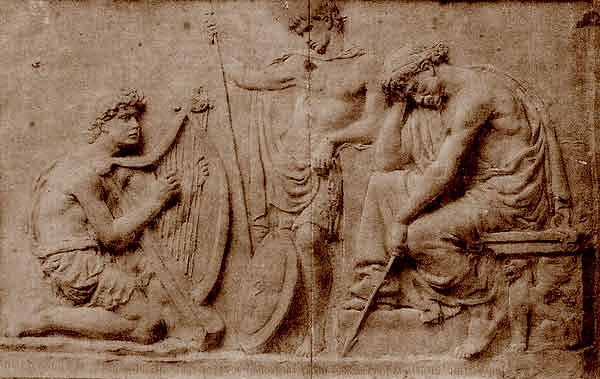 "David playing before Saul" exhibited RA 1885**
She was active in the decorative arts, designing for the Della Robbia Pottery, Birkenhead, from 1886 until its closure in 1906. Her work was very much in the Arts and Crafts Movement tradition and was seen at each Arts and Crafts Exhibition Society exhibition from 1889. She showed panels for ceiling, wall, mantelpiece and nursery decoration as well as designs for an electrical bell push, doorplates, a tea caddy and a letter box. Among the other sculptors she came into contact with through the Movement was Robert Anning Bell, a leading exponent of painted plaster relief. EMR herself produced panels in this medium, such as Marigold, A Gleaner,** a portrait of a girl in a harvest context.
Her Della Robbia design work brought her into more public view and her depictions of fairies and children were particular favourites and well as more religious themes, including angels. This exposure, together with her place within the Arts and Crafts Movement, led to architectural commissions. Most significant was an invitations to design four spandrels for the Women's Building at the Chicago 1893 World Columbian Exposition. Each polychromed plaster relief was nearly 6 ft tall, representing in turn Faith, Hope, Charity and Heavenly Wisdom.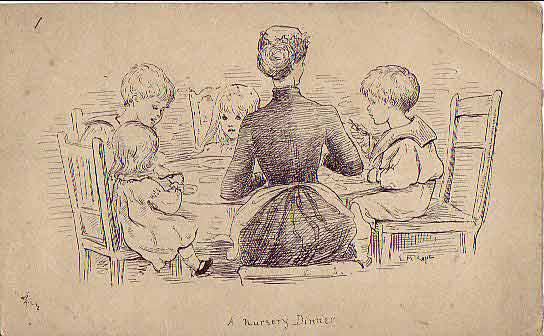 drawing by EMR, courtesy of Linda Taylor (found in a book)
Other architectural commissions of this period included bas-reliefs for the Women's University Settlement in Nelson Square, Southwark, based on Chaucerian quotations, figures of Faith, Hope & Charity for Morley Town Hall, Leeds and a 20ft long panel for Rotherhithe Town Hall (destroyed in World War II).
Her plasters for the popular market were sometimes coloured, sometimes left plain and she aimed to be accessible to people of relatively modest means. Her panels "were primarily designed to be executed at a low cost and repeated if desired, so that they could be used by others than the very rich." (The Builder). She also produced works intended for church decoration, often through the Church Crafts League, an offshoot of the Arts and Crafts Exhibition Society. For example, in 1905-6 EMR executed a series of reliefs in cement for St Mary's, Bolton-on-Swale, in memory of Admiral Talbot Carpenter and his wife. Other commissions for memorials were an outcome of the First World War, as exemplified at St Peter's, Blaxhall.
There was another design that was applied in a number of contexts, originally for the memorial to Mrs Mary Anne Moberly, wife of George Moberly, Bishop of Salisbury, installed in the Cathedral in 1890. It depicted an angel sounding the last trump and was reworked on several occasions in various materials, this one in stone. Later examples were made for Stone House School, Broadstairs and again in Pietermaritzburg, South Africa. Another commission in Salisbury Cathedral was for a memorial to Edith Emily Moberly, daughter of the above. Memorials, in fact, occupied much of her productive effort from 1917 until the mid-20s, during which time she ceased to exhibit, and beyond.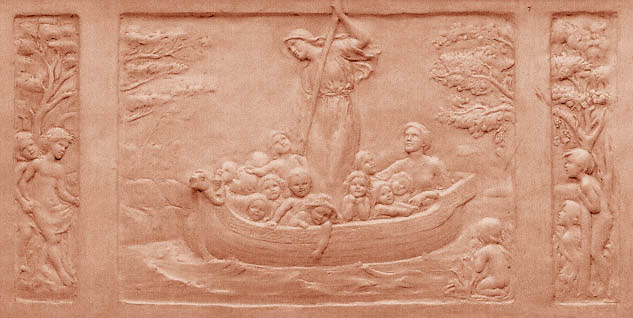 "Patience and Hope steering the Boat of Education", plaster panel**
From 1903, she shared a studio (first on Marylebone Road, later at 404c Fulham Road) with her niece Dorothy Anne Aldrich Rope, then aged 20, who became first her student and later co-worker, adopting much of her style and many of her motifs. EMR also influenced two other nieces, the Margaret Ropes who are the main focus of this website. As the linked map (designed by Tor's friend Clara Dawson) shows, the aunts and nieces later came to work in Deodar Road, Putney in studios in close proximity to each other although EMR later moved home to Blaxhall. It is in fact St Peter's, Blaxhall that contains her only known work rendered into stained glass, executed to her design probably by both of the Margaret Ropes, her nieces, "Tor" doing the left light and "Marga" the rest. EMR continued to work well into her seventies but died before reaching the age of 80 and was buried at St Peter's, near her Blaxhall home.
The exhibition catalogue from which the large majority of the above was drawn offers this reassessment of Ellen Mary Rope's work:
"Based on the evidence of the recently discovered corpus of her work and the details of her career, Rope appears eminently worthy of the accolades she received from contemporary writers. But more than that, Ellen Mary Rope is revealed as an artist who successfully combined a delicate sensitivity and considerable technical skill, with a lively imagination and intellect. Her work is a lasting testimony to this achievement."