Life of Margaret Edith (Aldrich) Rope ("Tor")
Wikipedia Entry for M.E.Aldrich Rope
The two Margaret Ropes were first cousins, granddaughters of George Rope of Grove Farm, Blaxhall, Suffolk (1814-1912) and his wife Anne (née Pope) (29/3/1821-1/10/1882). Details of their immediate families are visible on the family tree page. Neither married: both were baptised Anglicans but died Roman Catholics.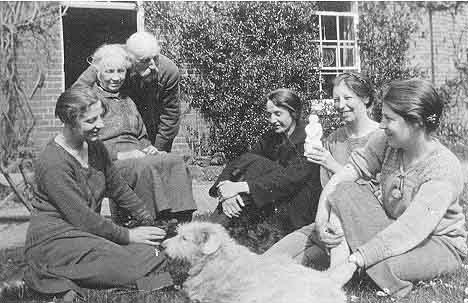 The younger Margaret was the 5th child of Arthur Mingay Rope (himself George and Anne's 5th child: 1850-1945) and Agnes Maud (née Aldrich: 1855-1943). She was born on 29th July 1891 and christened Margaret Edith at St Margaret's Church, Leiston, Suffolk on 25th August. She died in March 1988.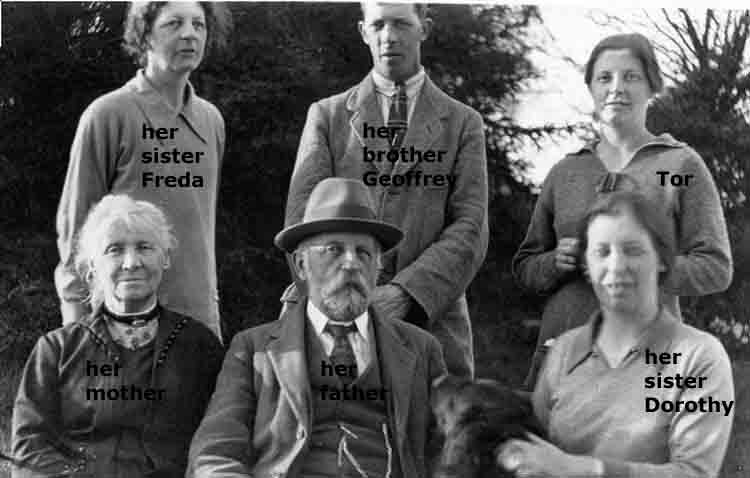 Born into a farming family at Leiston on the Suffolk coast, Margaret Edith Rope found herself among artistic relatives at Leiston and Blaxhall, Suffolk: her uncle, George Thomas Rope, landscape painter and Royal Academician; her aunt Ellen Mary, sculptor; sister Dorothy, also a sculptor. In the family, her nickname was "Tor", for tortoise. She was later to use a tortoise to sign some of her windows.
She was first educated by an aunt and later at Wimbledon High School, Chelsea School of Art and LCC Central School of Arts & Crafts (where she specialised in stained glass under Karl Parsons & Alfred J. Drury).
From about 1911, she started working at the Glass House in Fulham with her cousin Marga. One commission they worked on together is believed to have been the Rope family memorial window for Blaxhall. During the first World War, she was involved in the Women's Land Army, returning to the Glass House, working with Marga and on independent commissions, e.g. Clippesby, Norfolk (c.1919), where her skills at portraying children are first visible as is her interpretation of the Arts and Crafts style. To distinguish herself from her namesake cousin, she used the professional name of M.E.Aldrich Rope (incorporating her mother's maiden name) or M.E.A.Rope.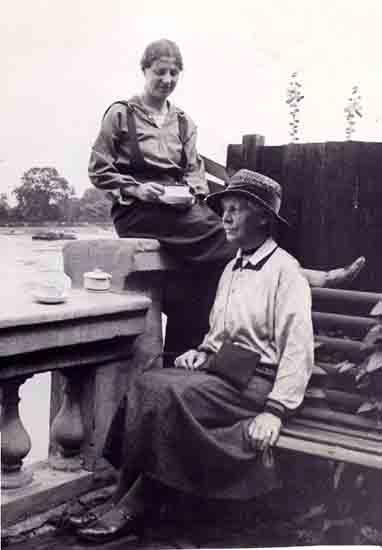 One of her friends was J.Harold Gibbons (church architect) and this connection led to her first major commission for St. Chad's, Far Headingley, Leeds. The resulting large window above the altar, "The Creation", remains one of her finest works, full of joy at Nature's profusion. At some stage around 1926, she moved to 61 Deodar Road, Putney (also occupied by Caroline Townshend and Joan Howson, who moved there in 1926). Later, in World War II, she moved to 81 Deodar Road but this was bombed. During the war, Tor assisted Townshend & Howson at three hospitals for evacuated children in North Wales, then moved to Storrington , Sussex.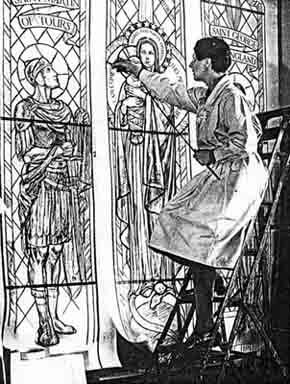 After the war, she moved back to Deodar Road (No. 89) where she had a studio, workshop & kiln (also used by Rachel de Montmorency). She shared the house with Clare Dawson, a friend & pupil. During this period she completed a number of windows for the Carmelite monastery at Quidenham, Norfolk, which were largely designed by Marga. Late in her life, Tor became a Catholic "after being invited (at Quidenham) to go on a pilgrimage to Lourdes by the Bishop of Northants". In mid-1978, at the age of 87, she left Putney and returned to live on the family farm in Suffolk. She died on 9th March 1988, aged 96, after suffering a protracted period of Alzheimer's Disease.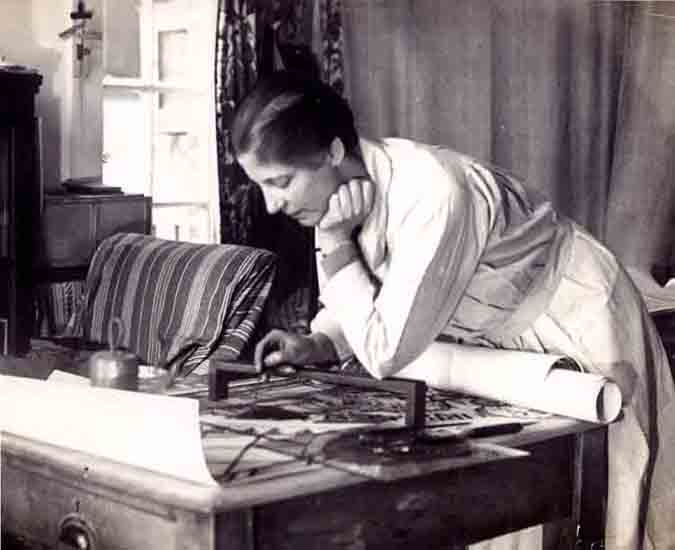 Tor's career spanned a period of over 50 years, counting from the time of her first collaboration with Marga, with individual commissions coming as early as 1919 and as late as 1973. In all, she produced well over 100 windows. Covering such a long period, her style not surprisingly evolved. Initially, she followed closely in her cousin's footsteps. In her later years, perhaps under the influence of her friend and fellow Arts-and-Crafts practitioner Wilhemina Geddes, her figures, especially facially, became more simplified and starker but, far from declining, her later years witnessed a late flowering, with some fine windows completed long after her 70th birthday. Common themes were the Annunciation, the Crucifixion, lives of the Saints, the Virgin and Child, nature, daily life and children.
Some of Tor's finest work can be found at:
St Chad's, Far Headingley, Leeds
All Saints', Hereford
Crypt of St Mary Magdalene, Munster Square, London
All Saints', Lydiard Millicent nr. Swindon
St Peter's, London Docks
St Saviour's Priory, Haggerston, London
St Peter's,Clippesby, Norfolk
SS Peter & Paul, Bromley
SS Mary & John, Cowley Road, Oxford
St John's, Coventry