The life of Margaret Agnes Rope ("Marga")
Wikipedia entry for Margaret Agnes Rope
The two Margaret Ropes were first cousins, granddaughters of George Rope of Grove Farm, Blaxhall, Suffolk (1814-1912) and his wife Anne (née Pope) (29/3/1821-1/10/1882). Details of their immediate families are visible on the family tree page. Neither married: both were baptised Anglicans
but died Roman Catholics.
The elder Margaret Rope, Margaret Agnes Rope,was the second child of Henry John Rope, M.D (himself George and Anne's 3rd child: 1847-1899) and Agnes Maud (née Burd: 1857- 1948). "Marga", as she was known in the family, was born on 20th June 1882 and christened Margaret Agnes at St Mary's Church Shrewsbury on 7th July. She died in December 1953.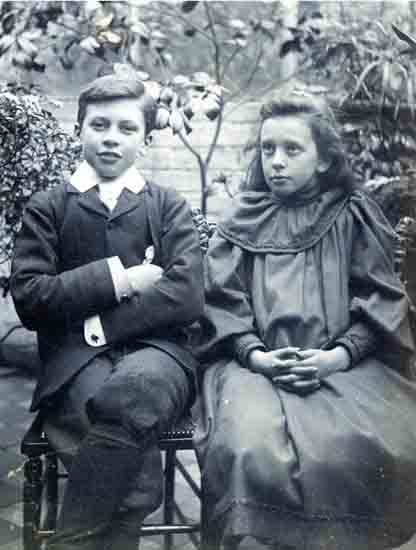 Marga as a child, with her brother Henry, later a well-known Catholic priest and author
Margaret Agnes Rope was born into an urban professional family, both her father and her maternal grandfather being doctors. It was an Anglican family but her mother converted to Catholicism (along with 5 of her 6 children) soon after her husband's early death. She brought her children up in some degree of poverty, exacerbated by her father's will, which denied money to any descendant "in religion" - he was a High Church Anglican but strongly anti-Catholic. Of the children, two became nuns ("Marga" and Monica - "Mon") and one a priest (Harry). Two other siblings were Irene Vaughan, a botanist, and Michael Rope, an aeronautical engineer, who died in the R101 disaster. Only one, Denys, a doctor of medicine, followed his father as an Anglican.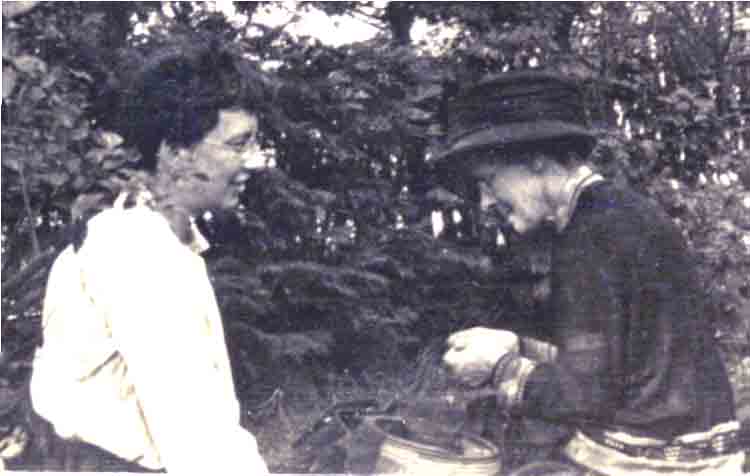 Marga with her mother, shortly before becoming a Carmelite nun
Marga was educated at home until she went in 1900 to the Birmingham Municipal School of Art. Studies included enamelling and lettering. From 1901, she studied stained glass under Henry Payne. She had an illustrious career at the school including a number of scholarships, plus many awards in the National Competition for Schools of Art. In 1909, she left the school and worked from home (The Priory, Shrewsbury) especially on the large west window of Shrewsbury Catholic Cathedral, the first of seven she did there. From 1911, Marga worked (sometimes with her cousin "Tor", see below) at the Glass House in Fulham until 1923 when, on 14th September, she became a Carmelite nun, Sister Margaret of the Mother of God.

Marga's monogram, seen only in one window: the family memorial window at St Peter's, Blaxhall
As a Carmelite, she was first at Woodbridge, Suffolk, later at Rushmere, near Ipswich, and, after the Second World War, at Quidenham, Norfolk. At Woodbridge, she was able to continue her work, sending glass to and fro by train to the Glass House in Fulham for cutting, firing and leading up. This continued until 1939. After the war and the move to Quidenham, Marga was not well enough to do more than help with the designs for the windows for the monastery church, which were made by her cousin, "Tor". She died on 6th December 1953.
A memorial window to her can be found at the Church of the Holy Family and St Michael at Kesgrave, near Ipswich. This was a window adapted by her cousin from an incomplete work by Marga herself. Her archive is held at the Birmingham Art Gallery & Museum.
Marga is reputed to have been a strong character, smoking and motorbike riding being among her pastimes before she took her vows. Her stained glass work also shows strength of character as well as artistry in design and execution of a high order. Much of her best work is typified by strong colours, jewelled intensity and consummate glass painting skills. The sense of individual personality that shines from many of the faces she portrayed is powerful. Common themes of her windows were the English martyrs, the Annunciation and the lives of the Saints. In a shorter career than her cousin, only 30-odd years, she inevitably produced fewer windows - around 60. However, her work must be reckoned to be generally more outstanding, though this comment should not be taken to denigrate the younger cousin's work, which was also of a high standard of excellence.
Some of Marga's finest work can be found at:
Shrewsbury Catholic Cathedral, Shropshire
the Church of the Holy Name, Oxton, Birkenhead, Lancashire
Michaelhouse School Chapel, Balgowan, Pietermaritzburg, S. Africa
Our Lady of the Assumption, Latchford, Warrington, Cheshire
SS Peter & Paul Catholic Church, Newport, Shropshire
the Church of the Holy Family and St Michael, Kesgrave, near Ipswich
Tyburn Convent, Marble Arch, London
---
If you have any comments, corrections or additions, please contact me at the address here