List of works by Margaret Agnes Rope ("Marga")
Arranged alphabetically by UK county, then by country internationally.
Listings for Cheshire, Dyfed, Gwent, Hertfordshire, Lanarkshire, Lancashire, London, Norfolk, Oxfordshire, Shropshire, Suffolk, Surrey, Yorkshire
and
Australia, Italy, South Africa, USA
Click on links to view windows; links in bold italics lead to higher quality images on external sites, especially www.flickr.com. Other links lead to old pre-digital pre-Broadband images.
Green italics show locations I have not visited or got colour photos from: help, please, with information and photos!
New informative feature: downloadable descriptions of some windows (pdf format) in great detail, © copyright by Roger Hall. So far: Birkenhead, Latchford and Oxton Cheshire; Newport & Shrewsbury, Shropshire; Blaxhall, Suffolk, Oxted, Surrey and Rome
These descriptions give an indication of the intense research that lay behind the details in many of Marga's windows.

---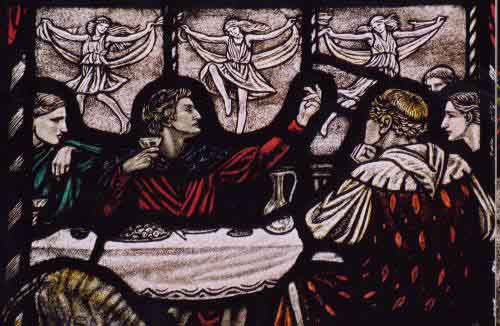 Cheshire
Birkenhead: Catholic church of the Holy Name, Oxton
There are some really important Marga windows here: St Winefride & St Therèse of Lisieux, English martyrs of the Shrewsbury diocese, Lindon Memorial window, 3 lights: St John the Baptist, St Mary, St Elizabeth. Download full description of the English Martyrs window (pdf format) © copyright by Roger Hall here
Birkenhead: Our Lady of the Immaculate Conception: Annunciation (lost in bombing raid, March 1941) Download full description of this window (pdf format) © copyright by Roger Hall here
Hoylake: St Hildeburgh's:
Memorial window to James H Getty (Thanks to Jan Rance for finding a "new" window via Barrie and Wendy Armstrong's book "The Arts and Crafts Movement in the North West of England", pub. Oblong Creative of Wetherby,2005)
Latchford, Warrington: Our Lady of the Assumption Catholic Church (closed). 2 windows (2 lights each) English Martyrs (B.John Finch, B.James Bell, 1932; SS John Fisher and Thomas More, 1939) Download full descriptions of the windows (pdf format) © copyright by Roger Hall here: Finch & Bell window, Fisher & More window
Sale: St Joseph's. A series of painted panels: 18 on individidual Catholic English Martyrs around the chancel walls (click here and browse > in flickr) and two pairs of panels in the North and South aisles: Annunciation, Nativity, a Nun's Communion, a Nun's Vision
Stockport: Our Lady and the Apostles Catholic Church
One 3-light window behind the altar: The Holy Family (1930s).Centre detail
Llandovery: Our Lady's Catholic church
Charming memorial window to Marga's nephew and niece, who died in childhood. Lower half, enlarged.Upper half, ditto The adjoining window, also in the Arts and Crafts style, is a memorial to their father, but not by Marga or Tor but by J.E.Nuttgens.
Llanarth: St Mary & St Michael's Catholic church, Llanarth Court
2 windows- St Francis & St Bernard
Letchworth Garden City: St Hugh of Lincoln R.C. church
St Francis early window c. 1908
Lanark: St Mary's
Parable of the Prodigal Son, 1915 One of my favourite windows by Marga: follow the story from details in the window: 1:The Prodigal sets out from the farm for the bright lights of the city, 2:".. wasted his substance with riotous living", 3:"..the husks that the swine did eat", 4:" .. kill the fatted calf", 5:" .. one sinner that repenteth", 6: Father and Prodigal Son dine but look who isn't happy! Also: Noah's Ark

Christ in Gethsemane and the Crucifixion, including details: 1: The Last Supper: Judas (left) with his money in hand, 2: The disciples sleep during... 3: The Agony in Gethsemane as the soldiers arrive with Judas. 4: The Crucifixion. Also: 5: A woman dries Christ's feet with her hair and 6: The pelican, symbolic of Christ's sacrifice
Lanark: Hospital (perhaps St Mary's Hospital, now council offices)
One window: Our Lady. Does anyone have any information on where this might be? Can anyone provide a photo?
Upholland: St Joseph's College (now deconsecrated and being converted. It was inaccessible the last time I visited)
Multiple window in complex tracery portraying the Church in sacrament and teaching. (I would really like a digital image of this window)
Clapham: St Mary's (Our Lady of Victories)
One 3 light-window (west end) The Holy Family;[Christchild's face not original For image details click on St Joseph and browse in flickr]; 3 lancets in a locked room, once a chapel: Crucifixion, Virgin and Child, Blessed Sacrament. Or browse in flickr from here backwards
Marble Arch: Tyburn Convent
Ten panels incorporating 20 roundels commemorating the Tyburn martyrs, with themes of the Beatitudes and the Corporal Works of Mercy. [Click on a link and browse in flickr] See also these (browse series)
Quidenham: Carmelite Monastery
The general public cannot see her five fine panels on the history of Carmelite foundations that are in the enclosure St Teresa, St Joseph (Avila del Rey), the Holy Trinity (Notting Hill), Nativity (Paris), Magnificat (Woodbridge) but her designs (executed by her cousin, Tor) can be seen in many windows in the chapel.[click on link then browse in flickr]
Clifton Hampden:
Lancet: St George and the Dragon A rare example of a Marga window in an Anglican church.
Newport: SS Peter & Paul Catholic Church
Five large and important early windows here (1912-16) - Our Lady, Help of Christians and detail (face not original), St Peter, detail, his crucifixion, St Paul, detail, Nicholas and detail, & St Winefride and detail. Much of interest in the background detail and the lower panels. 1, 2, 3 Download full descriptions of the windows (pdf format) © copyright by Roger Hall here: St Peter, St Paul, Our Lady Help of Christians, St Winefride, St Nicholas
Shrewsbury: Cathedral Church of Our Lady and St Peter of Alcantara
A great concentration of important windows from the 1910s,20s and 30s: the Great West window, 6 large lights(detail) and much tracery; The Visitation and St Cecilia (3 lights, s), tracery detail, whole window, Life of St Laurence (3 lights & tracery, sanc.s), The Seminary Martyrs (formerly Congress) Window (opposite St Laurence, matching) Details: left, centre, right, The Soldier window (Sacred Heart chapel), Baptistry window(w) detail and, inaccessible to the general public, in the Sacristy, St Ambrose. Or see this image by Aidan McRae Thomson and click on "older" to browse among many details of these windows. In the entrance to the cathedral is a small carved and painted war memorial, also by Marga. Download full descriptions of the following windows (pdf format) © copyright by Roger Hall here: The Great West Window, The Seminary Martyrs Window (formerly Congress Window), St Laurence window, Soldier Window, Visitation Window, Baptistery window, St Ambrose Note: the latest re-naming of the misnamed Congress window to be "Seminary Martyrs window" is on the authority of annotations by the artist herself on a cartoon for the window held by the Margaret Rope archive.
Shrewsbury: Museum - on loan from a private owner: Judith (c.1906) a small panel illustrating a moment in the tale of Judith and Holofernes
Shrewsbury: St Mary's. In the south aisle Lady Chapel is a carved and painted altar front by Marga. She was a worshipper in this church in her Anglican days.
Blaxhall: St Peter's
The east window, 1913, the Nativity with Saints, is a memorial to her paternal grandparents, who lived in the parish, and other family members. As usual, there is much of interest in the background detail as well as the main figures. As is typical of Marga, these have characterful faces, drawn from models. St Michael, for example, is modelled by her brother, as elsewhere (see next entry). Details: Blessed Virgin & child, SS Peter & Michael, St Joseph, St Luke, Central section) Also charming porch window, right hand panel by Marga, left hand side by Tor. Based on a design by her aunt, E.M.Rope Download full description of the East window (pdf format) © copyright by Roger Hall here: East window: Holy Family with evangelists and saints.
Kesgrave: Holy Family and St Michael Catholic Church
Founded as a memorial to her brother Michael, killed in the crash of the airship R101 and containing many interesting and impressive works by Marga and her cousin, Tor. David and Isaiah,(2 lights,e), St Margaret window (porch) and detail 1: Theresa of Avila, detail 2: The Trinity with Christchild and St Catherine window (porch) and detail: Sister of Charity, the Holy Family & St Michael (3-light above the original altar); St Dominic (w), detail, SS John Fisher and Thomas More (w); Holy Saturday Processional (in the "Galilee") shows members of Marga's family; Our Lady and the Christchild (n), originally by Marga, revised as her memorial by Tor. The church also contains cartoons and other works by Marga.(with thanks to Imogen Radford for many of the photos here)
Oxted: All Saints
Lancet window of St Hedwig. Commentary © copyright by Roger Hall (downloadable pdf file)
Yorkshire, West Riding

Heckmondwike: Church of the Holy Spirit
Three circular windows in East end St John, St George, Holy Spirit (photos copyright © and courtesy of Julia Smith, with thanks for finding "new" windows)
Geraldton, Western Australia: St Francis Xavier Cathedral.
Eight windows by the two cousins: Marga's include Janua Coeli (war memorial window) detail one, two, and Rosa Mystica details one, two, News of the Resurrection (detail: sleeping guards) and Bishop Kelly memorial window. (Photos courtesy of and copyright © Peter Ledger) see also this
Mullewa, Western Australia: Our Lady of Mt. Carmel and SS Peter & Paul: one light: Gloria in excelsis
Rome: Venerable English College
One window (single light): St Ralph Sherwin Commentary © copyright by Roger Hall (downloadable pdf file)
Balgowan, near Pietermaritzburg: Michaelhouse School chapel
Seven fine lancet windows, early 1920s, mostly war memorials- Samuel as a boy in the temple, David as a shepherd boy, St Michael, Virgin and Christchild, Angel Gabriel, John the Baptist as a boy, a lad carrying loaves and fishes: excellent. (Photo courtesy of and copyright © Anthony Nicholson)
Randfontein: St John the Divine
"This do and thou shalt live" memorial window. Can anyone provide a photo, please?
Two panels, once in the hands of a Canadian collector, were sold at auction to US museums in 2014. The Well of Love is at the Los Angeles County Museum and an early version of Goblin Market is at the Metropolitan Museum of Art in New York. A later work by the same name is in a private collection in the UK.

---
If you have any comments, corrections or additions or if you can help provide a colour photo of locations in green, please e-mail me at the address on here.