The Margaret Rope Archive
Please note: Owing to the constraints arising from the coronavirus pandemic, there is currently no opportunity for public access to the Archive. In any case, when further work has been possible by the Archive Team, the main access will be on-line. Details will be announced here.
The Archive comprises a substantial collection of items relating principally to the artist Margaret Agnes Rope, the processes of her artistic output as well as material relating to her life. There are also some items associated with M.E.Aldrich Rope and other members of her family.
The vast majority of the archive is the property of the Carmelite Monastery at Quidenham, Norfolk but is on permanent loan to the Mrs L.D.Rope Charitable Settlements at Lucy House, Kesgrave, Suffolk, having previously been loaned to Birmingham Art Gallery and Museum [BMAG]. Staff shortages at BMAG meant that the archive could no longer be adequately curated there and, as a result, loans of items were having to be refused, for example to the Margaret Rope "Heavenly Lights" exhibition in Shrewsbury Museum (12 September 2016 to 15 January 2017). With the agreement of all parties, particularly the community of nuns at Quidenham, the Archive was transferred in 2017 to its present site. Since the transfer from BMAG, a few relevant items have been added from other sources, notably the MacQueen family, and Arthur Rope. We are very fortunate to have the support and encouragement of the Rope charities in our work on the archive..
Range of contents The archive contains items that remained after the artist's death at the monastery in Quidenham as well as later additions. As listed in the Archive's classification of items, the range covers:
1. Vidimuses - initial colour illustrations giving an impression of the overall colours and design of proposed windows
2. Cartoons - full-size detailed working drawings of the exact design of commissioned windows
3. Photos - of completed windows and other subjects
4. Card designs - particular from later years as a Carmelite, at Rushmere and Quidenham
5. Lettering and fonts
6. Drawings (including some watercolours) - a considerable collection, not all classified
7. Solid (3-D) items - especially artist's material and glass samples
8. Press cuttings and the artist's source materials
9. Correspondence and private papers
10. Publications
Of these, 1, 2, 3 and 6 are the most significant in showing the artist's working methods and works of art. It is possible in many cases to see the evolving stages of the artistic process, from initial concept through preliminary sketches to life-size final designs. These can be compared to the final windows, of which photos appear on this website.
Cataloguing Currently, when conditions allow, a small team of volunteer Margaret Rope experts and enthusiasts has been working on cataloguing and photographing the many items in the Archive. The resulting database will form the basis of an information retrieval system, allowing access to high-quality images of much important material.
Storage of items Items, when catalogued, are stored in the Archive Room as follows: (a) in the form of paper rolls, on shelves in the cupboard arranged in accordance with the list on the inside of the door and the shelf dividers (This is where most of the cartoons are located.) (b) in poly-pockets in ring folders, shelved on folder racks (A4 or smaller sized flat items: vidimuses, photos, drawings, cards) (c) in large flat boxes, including one grey oversize box (all flat items over A4 size) (d) separately on or below shelves - 3-D items and photo albums Note: All items - particularly those in boxes and files - must be kept in sequence. 6. Classification / cataloguing All numbered items are listed in the form of a searchable Excel database, using the categories in 4. above. 7. Access Researchers will be encouraged initially to access the Archive via the online catalogue and photographic gallery and only to apply to arrange a visit to inspect original items when absolutely necessary. Some are already fragile and in need of restoration. Advice has been sought from professional archivists and acted upon, with storage secured in approved containers and in temperature-controlled conditions remote from UV radiation. More remains to be done: it is an on-going project.
Contact In case of enquiries about the archive and its contents, in the first instance please email Arthur Rope at the address given at the bottom of the Home page.
Illustrations A few typical items from the Archive are shown below; more illustrations will follow, here or on flickr.com.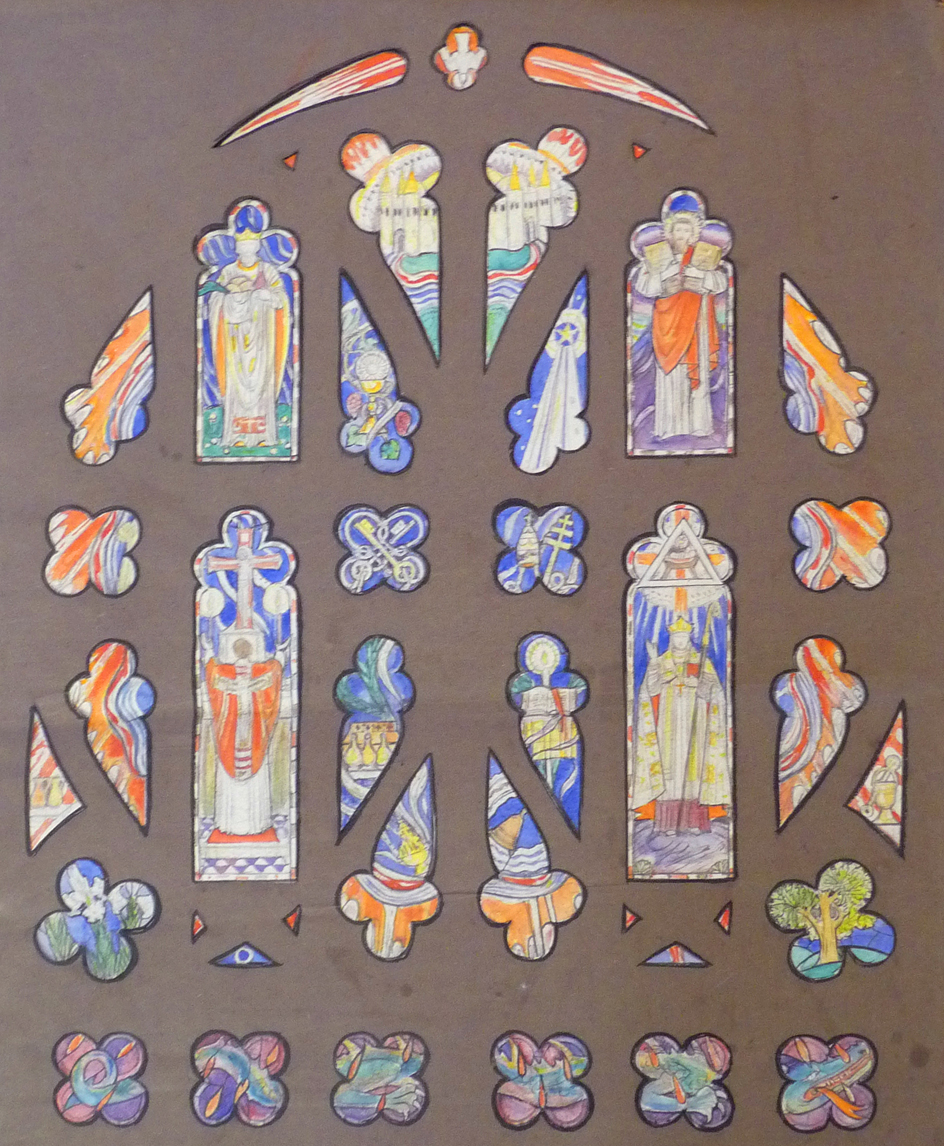 One of many vidimuses in the Archive, preliminary drawings for the sponsor, showing the proposed design in colour, to scale. This one is for the West window of the chapel at St Joseph's College, Upholland. Marga (as Sister Margaret of the Mother of God) won a competition to design this difficult window.

A large number of cartoons (full-size final designs) survive in the Archive, either flat or in rolls. Most are in black and white but a few are coloured. This cartoon, for a window in Our Lady, Birkenhead, is particularly significant as the actual window was destroyed by bombing in World War II. The cartoon here shows what a serious loss this was. The studio photo for the same window is here.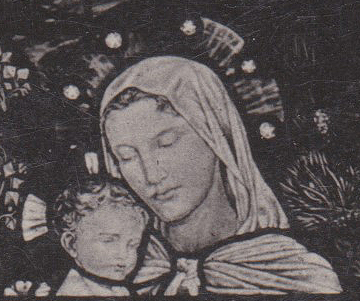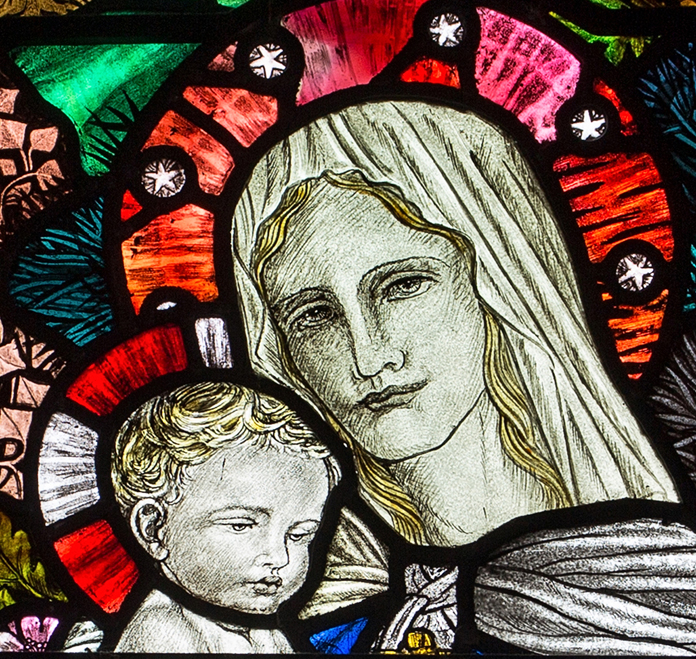 The Archive also holds a number of prints of studio photographs of completed windows. The one shown above left is of Marga's first window (of five) for SS Peter & Paul, Newport, Shropshire: "Our Lady, Help of Christians". The window survives to the present day except for the face of the Madonna, which suffered damage and has been twice replaced. The latest version is shown here in colour, demonstrating the contrast between the original subtle artistry and a much later piece of inferior work. Unfortunately, the face being such a focal feature, the window now carries a serious blemish. It is a pity that the later replacement was not informed by this photo of the original.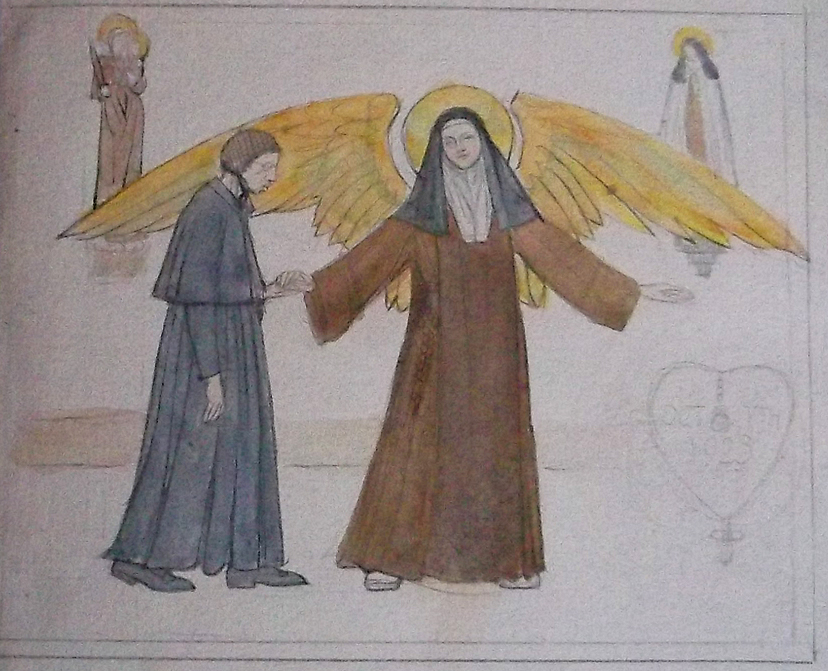 There are a large number of drawings in pencil and sketches in watercolour in the Archive. Some are preparative sketches for window designs, some are portraits of known and unknown people, some are humorous or, as here, personal commentary. Here we see Marga being welcomed into Carmel by St Thérèse of Lisieux. As she often did, Marga portrays herself with a harsh self-caricature.
More examples from the Archive will be added to flickr.com and links provided here. Click on the underlined words for access.

Drawings
Pencil sketch of a young girl
Sketch of a dancing nun
A pair of satirical sketches: Leo subdued - see commentary
Preliminary sketch for St Elizabeth, based on Elizabeth Lindon for her memorial window at Holy Name, Oxton, Birkenhead

Cartoons
The future King David as a Shepherd for a window at Michaelhouse School, Balgowan, South Africa
John the Baptist as a boy for a window at Michaelhouse School, Balgowan, South Africa
The Mocking of Christ, part of a window at Geraldton R.C. Cathedral, Western Australia
St Elizabeth, part of a window at Holy Name, Oxton, Birkenhead
Amended cartoon for Our Lady & St Catherine, a window adapted for the porch at The Holy Family and St Michael, Kesgrave, Suffolk
A small part of tracery at St Joseph's College, Upholland, Lancashire, [The design was subsequently amended in the actual window to remove the flow of blood out of the gates of Heaven. In the finished window, it simply flows past.]
Elijah departs: two cartoons for the clerestorey at Quidenham monastery chapel, designed by Marga but made by Tor

Vidimuses
A family memorial window at Llandovery, Wales
A pair of windows on local Catholic martyrs for Latchford, Warrington
St Ambrose window in the sacristy at Shrewsbury cathedral
Soldier window at Shrewsbury cathedral
Holy Family window at Clapham Redemptorist church
St Teresa (and St Margaret) window in the porch at Kesgrave R.C. church

Photos
There are a number of photos in the Archive, including this one of Peg Poore, a close family friend. She appears as herself in the Lumen Christi Holy Saturday window at Kesgrave (she is the kneeling figure at the extreme right) and, according to family tradition, as a model in other windows
There are also a number of studio photos, giving a black-and-white image of the windows at time of completion. Some have since been damaged or destroyed, so these images are a valuable historical record. One example is this Good Samaritan window, now in Randfontein, South Africa. No clear colour image is held in the Archive. Another is this, the Annunciation for Our Lady, Birkenhead but lost in 1941 bombing of Liverpool docklands. In a similar way, this studio photo of St Francis and the birds was the clinching evidence to attribute a panel at St Hugh, Letchworth to Margaret Rope, perhaps her first commission for a church.
.