List of works by Margaret Edith (Aldrich) Rope
Arranged alphabetically by UK county, then by country internationally.
There are listings for Buckinghamshire, Cambridgeshire, Clwyd, Cornwall, Derbyshire, Dorset, Durham, Hampshire, Herefordshire, Hertfordshire, Kent, Lancashire, London, Manchester, Norfolk, Oxfordshire, Shropshire, Somerset, Stirlingshire, Suffolk, Sussex, Warwickshire, Wiltshire, Yorkshire
and
Australia, Malta, South Africa, Sri Lanka, Trinidad
Click on links to view windows; links in bold italics lead to higher quality images on external sites, especially www.flickr.com
Green italics show locations I have not visited or got colour photos from: help, please, with information and photos!

---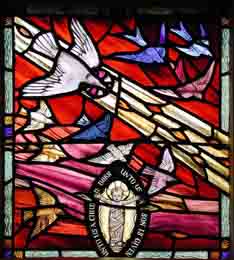 Eddlesborough: St Mary's (now a "redundant" church): 2 light (s) Nativity 1933
Lane End: Holy Trinity: 1 light (s) Annunciation & Nativity 1948: small window. (Photo courtesy of and copyright © Ian A Wood)
Ely: Cathedral - Stained Glass Museum: 2 small panels: Franciscan Boy & a Vision of Heaven, The Visitation.
Ickleton: St Mary Magdalene: 3 light (e) Crucifixion with St Mary Magdalene and St Etheldreda 1929. (with thanks to theRevSteve: browse his flickr stream for more details)
Molesworth: St Peter's: 3 light (e) Christ in majesty with Nativity, Crucifixion, Light of the world 1929. Details: 1, 2, 3, 4. (Photos uploaded to flickr by the illustrious Simon Knott: browse his photostream for more details of this remarkable window.)
Wrexham: Holy Trinity, Esclusham: 2 light window 1950.
Polperro: St John the Baptist: 2 windows (s & e) "no man cometh .." 1956, Jesus & disciples, fishing themes 1959/60. (Browse photostream for many details)
Chesterfield: St Mary & All Saints: 3 light (s) The Good Samaritan with Virgin & Child at centre1953. Also details: left, centre, right
Bournemouth: St John the Baptist, Moordown: 2 lights (w) Edward Jenner, Florence Nightingale. Image © Imogen Radford Edward Jenner & Florence Nightingale
Hinton Martel: St John's: 8 panel painted screen.
Roker: St Andrew's: A handsome church ("Cathedral of the Arts and Crafts movement") with many A&C masterpieces, including a ceiling mural by Macdonald Gill executed with Tor's assistance (reportedly). (Thanks to Ruth Burgess for supplying the photo and information about this exceptional church)
Hartley Wintney: St John the Evangelist; 4 lights (n) Carol themes 1939
Hereford: All Saints: Important location for Tor windows and open all day as a café: 6 windows: (e) 4 lights Annunciation, Nativity, Crucifixion, Expulsion from Eden 1933, (lady chapel) 5 lights, detail, Virgin and Child with St Martin of Tours, St George 1933, (e) 3 lights St Anthony the Hermit 1947, (s) gallery window Nativity with children 1944, (s) clerestory 2 windows SS Joseph & David.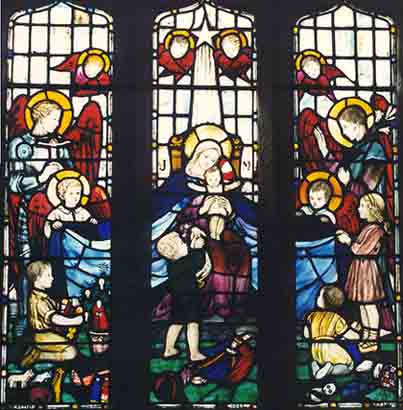 Bishop's Stortford: St Michael's: 2 windows in porch (s) SS Botolph & John of Beverley 1950.
Whitstable: All Saints: 2 light window (s) SS Christopher & Anne 1927.
Royton: St Paul's:The Annunciation with Joseph and John the Baptist 1929. Also entire window and details 1, 2, 3. [Thanks for a warm December 2010 welcome from several members of the congregation]
Bromley: SS Peter & Paul: Several 50s windows made for the postwar reconstruction - (e) 3 lights 1953, (n) 2 lights with rose 1959 [browse details], lancets in children's chapel 1, 2, 3, 4 (n). Also baptistry window (s) by Clare Dawson, Tor's student and friend; [browse details].(Photos copyright © Dr. John Salmon)
Chelsea/Pimlico: St Mary's, Bourne Street: rose (e) Eight titles of Mary. (Photo copyright © Dr. John Salmon)
Chiswick: St Paul's: 3 2-light windows in Apse, 1955: St Peter [& browse details]: St Paul [& browse details]: SS Peter and Paul [& browse details]. (Photos copyright © Dr. John Salmon)
Dollis Hill: St Francis of Assisi, Gladstone Park:(All photos copyright © Dr. John Salmon) (e) 3 lights Ecce Agnus Dei (s) two windows, SS Dominic & Francis & St Clare.
Fulham: All Saints, Putney Bridge Road: Virgin & Child and scenes from Christ's early life: 1938 details: 1, 2, 3, 4, 5

Grange Park: St Peter's: (All photos copyright © Dr. John Salmon) Very many late-period Tor windows here: clerestory windows 1957-60: (n) 1, 2, 3, 4 and (s) 5, 6, 7, 8, ,chancel windows Scenes from Life of Christ 1960-3: (n) 1, 2 and (s) 3, 4 : , Lady chapel (n) "And Mary hath chosen that good part", 10 small windows on Saints themes (n), (w), (s) 1966-73, perhaps including Tor's last window. If the inscription is by Tor, she was at least 82 at the time. Also 2, 3, 4, 5, 6, 7, 8, 9, 10
Haggerston: St Saviour's Priory: Entrance Hall: Two of the Saints series from next-door St Augustine's, now deconsecrated: SS Paul & Margaret For details courtesy of Amanda Slater click here and scroll right. Sacristy: 2 lights Christ as infant, and as shepherd: fair: Chapel: Episodes from early life of Christ (3 windows excluding the annunciation which seems to have come from elsewhere).
Highgate: St Augustine's, Archway Road: 3 single light windows (1 e and 2 se) Christ the King, Christchild with birds, Nativity (All photos copyright © Dr. John Salmon)
Munster Square, near Gt. Portland Street: In the crypt, now a youth club, are many windows from St Augustine's Haggerston (see item above). Poorly lit and hard to photograph, the Saints series made the national press for its mixture of sacred and secular themes: St Anne , St Leonard , St Michael, St Augustine, St George, St Joseph, Crowning of BVM, Madonna & child . (All photos copyright © Dr. John Salmon)
Northolt Park: St Barnabas: East (1954), detail, general church interior (west), West (1957), details: Miriam and Moses, expulsion from Eden, Nativity, Baptism of Christ, crucifixion, Baptism, tortoise signature west window, ditto east window(All photos copyright © Dr. John Salmon)
Victoria & Albert Museum: Two small panels in archives: Virgin and child, St Anthony preaching to fishes (roundel).(Both pictures courtesy of and copyright © Victoria & Albert Museum)
Putney: Christ the King, Polish Church (RC) previously St John the Evangelist: N Chapel (e) Nativity, 3 lights 1951 (information courtesy of Robert Eberhard) Details: 1, 2, 3, 4, 5, 6, (All photos copyright © Dr. John Salmon) 7 (© E.Denim)
Wapping Lane: St Peter's, London Docks: Important Anglo-Catholic church with many Tor windows: Rose (e) (with London Bells theme around edge ) S Peter, S Paul 1949: Good Shepherd (3 lights (e) 1954): left, centre, right: 4 circular windows (s) 1st 4 vicars: Lowder, Mackonochie, Suckling, Wainwright; 7 sacrament panels from St Augustine's, Haggerston: 1, 2, 3, 4, 5, 6, 7. (All photos copyright © Dr. John Salmon)
Ardwick: St Benedict's: Fine Victorian church now deconsecrated and housing the Manchester Climbing Centre: 3 light window in Lady chapel (e) Regina Coelorum, one light (s) St Francis 1935.
Clippesby: St Peter's: Tor's first commission: "Suffer little children ..." c.1919: excellent example of early style. Detail of Mary.
Quidenham: Carmelite Monastery
Many windows [click on links and browse in flickr] 16 clerestory windows designed by Marga, executed by Tor: ditto 6 roundels.
Oxford: SS Mary & John, Cowley Road: 3 lights colour, b&w, left, centre, right ("...bread from Heaven...") and one-light Virgin and Child.(and browse flickr photostream)
Wistanstow: Holy Trinity: Two windows SS Wistan & Anne. (Both pictures courtesy of and copyright © Andrew Loutit: more details in his flickr photostream)
Bicknoller: St George's: "Saul, Saul, why persecutest thou me?" 1952. (flickr images courtesy of David Cronin:whole window, maker's mark, donor's dog )
Falkirk: Christ Church: Window of 3 lights, 1929 Virgin & Child. Also 4 other windows c. 1935) in chancel, 1 x 2 lights, plus IHS and PX symbol windows
Barnby: St John the Baptist: (e) 1963 ; also four painted roundels. [browse on flickr]
Blaxhall: St Peter's: charming porch window part executed by Tor but designed by her aunt E.M.Rope. Probably Marga did the right hand side panel.
Chediston: St Mary's: 1947 (s) SS George & Felix: main interest in background of local scenes .[browse in flickr for more details]
Earl Soham: St Mary's: (n) SS Edmund & Felix: last full-sized window, made at age 73.(left, right)

Kesgrave: Holy Family and St Michael Catholic Church: (e) 3 English martyrs, (s) Virgin & Child, Walsingham, Nativity
Leiston: St Margaret's: (n) 2 windows St Luke, St Matthew (memorial to her parents).
Little Glemham: St Andrew's: Memorial window , detail 1, detail 2
Bolney: St Mary Magdalene: (s) Holy Sacraments. Details: 1, 2.
Chichester: Bishop Otter College, Old Chapel: 2 windows: St Francis, St Richard of Chichester 1934. (Photos courtesy of Peter Jones)
Coventry: St John's: (e) whole window : - her last large commission (see Leeds for her first). Annunciation, top half, bottom half. See also these excellent images from Aidan McRae Thomson top half, bottom half , whole window, detail
Royal Leamington Spa: St Mary's: (e) St Mary & the Risen Christ: similar to window in Trinidad. (Photo courtesy of and copyright © Mike Cox)
Lydiard Millicent: All Saints': (s transept) a distinctive window with trees and birds, 1963: All Ye Works of the Lord Bless Ye the Lord. (photo copyright Colin & Liz Taylor)
Leeds: St Chad's, Far Headingley: 1922 ("e") The Creation: Tor's first really large commission and arguably her greatest work. Details: Adam and Eve, Virgin & Child, angel lhs, angel rhs, lion, zebra, deer, camel, seal, band of angels, chaos, solar system, (find the angel!), flamingos, left hand light, central 3 lights, right hand light ... and the window in context. Studio photo of the whole window in black and white.
Geraldton, Western Australia: St Francis Xavier Cathedral.
Eight windows by the two cousins: between two and three are Tor's. (Photos courtesy of and copyright © John Taylor)
Mullewa, Western Australia: Our Lady of Mt. Carmel and SS Peter & Paul One light: "Pater Mi .." 1923. Details: upper, lower
Sliema: Holy Trinity Church: St George 1947. (Photo courtesy of militaryimages.net)
Capetown: St John's Church, Green Point: 4 roundels 1929. I am grateful for information from Peter Jones and Wikipedia: this interdenominational church was demolished in the 1930s. Four curved walls accommodated 4 religions/denominations. The 4 roundels may have been one for each wall. The intriguing creator of the church was Saul Solomon. He was a determined opponent of racism and religious intolerance well before such issues became widely acknowledged in his country. Sometimes a lost window produces a fascinating background story.
Ofcolaco, N.Transvaal: a 2 light window 1951: no other information, no photo: help please!
Passara: St Barnabas: A.H.Hall Memorial window: 2 lights 1953 - b/w studio photo, courtesy of Sara Hall. Colour photos courtesy of the vicar, Rev. Arasu Arasilarajah: Nativity and Resurrection
Port of Spain: St James the Just, Sangre Grande: late 1920s: 1 round (The Ascension) and 2 arched windows (The Nativity,the Magi) + 2 others (The Resurrection, The Victory of St George over the Dragon). New information: The Ascension believed lost (earthquake damage) but new colour images have arrived of Nativity, St George and the church

---
If you have any comments, corrections or additions or if you can help provide a colour photo of locations in green, please e-mail me at the address on here.